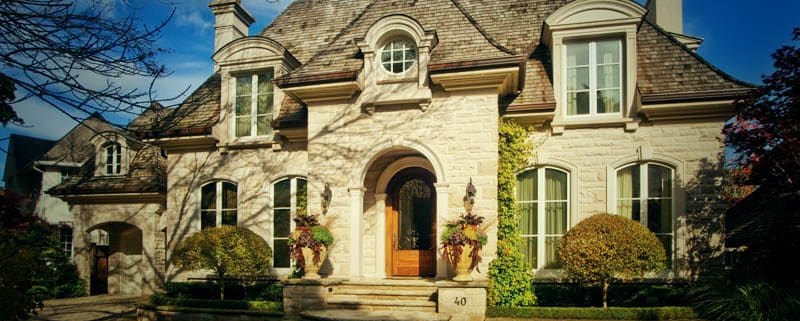 In Toronto's Housing Market, '$2-million Is The New $1-million'
Torontonians who can barely wrap their minds around a housing market where $1-million is the average price for a detached home might want to take notice of a new fast-approaching benchmark.
Try not to panic if you haven't bought yet but the $2-million home is a growing segment of the market in Canada's largest city.
Data released by the Toronto Real Estate Board Wednesday shows there were 461 detached home sales for more than $2-million through its Multiple listing Service system in the first five months of the year. That's only 2.4% of all detached home sales activity for the year but the $2-million plus range has climbed 37% over the past year in the GTA.
"What you are seeing is $2-million is the new $1-million," says Drew Laszlo, an architect in the city who has been involved in several infill projects that have fallen into the new threshold.
The strength of the $2-million-plus market comes as Toronto home prices continue to soar. TREB said Wednesday the average sale price of a home across the Greater Toronto Area reached $585,204 in May, an 8.5% increase from a year ago.
It was the best May ever for Toronto real estate sales with detached homes in the city proper reaching an average price of $943,055.
Jason Mercer, TREB's senior manager of market analysis, cautions when it comes to the $2-million-plus market the numbers are still small so it could affect the data.
"There is a clear reason why prices have gone up. Demand is strong but the majority of people looking to purchase a home are still doing it with a mortgage," says Mr. Mercer, citing record-low interest rates as a factor that continues to drive sales. "That leads to strong price increases because of a tight market."
Source: Garry Marr @ The Financial Post
https://www.tanteam.com/wp-content/uploads/2014/06/torontoluxuryhome2014-1.jpg
450
800
TanTeam Editorial
https://tanteam.com/wp-content/uploads/2020/10/newlogo.png
TanTeam Editorial
2014-06-05 06:20:34
2019-01-03 23:40:56
In Toronto's Housing Market, '$2-million Is The New $1-million'