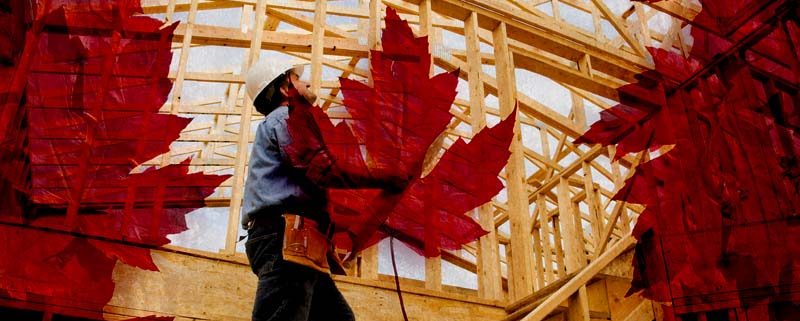 Misreading Canada's Housing Market: No 'Significant Overbuilding'
Don't fret, study says
Amid the angst over Canada's housing market, a new study suggests there's no "significant overbuilding."
That's because demand for housing isn't being measured properly, today's report from CIBC World Markets found.
"Ask any real estate developer in any of Canada's major cities about the risk of overbuilding, and the first line of defence would be immigration and its critical role in supporting demand," said economists Benjamin Tal and Nick Exarhos.
"It turns out that at least for now, this claim is more valid than widely believed," they added.
"Not only has the rising share of young immigrants lifted demand for housing, but also official population projections understate the actual number of non-permanent residents in the country by close to 100,000."
New immigrants, said Mr. Tal and Mr. Exarhos, now account for about 70 per cent of Canada's population growth. And half of them are in the 25-44 age group, meaning they're the most likely to start having kids, and thus driving the increase in new households.
"In fact, despite some concerns of overbuilding in the current housing boom, the ratio of housing starts to household formation is not far from its long-run average of 1.03," the study said.
"The broadly in-line aggregate trend in Canada's homebuilding means that the eventual wind-down in the current boom won't have to be as dramatic as feared by some."
The Bank of Canada and others have pointed to the hot markets of Alberta, Ontario and British Columbia.
But Toronto has cooled and Vancouver has been "broadly flat" for the past years, with construction starts driving higher only in Calgary.
The picture "might be even better than perceived," the economists said, because non-permanent residents are students, temporary workers and refugees.
That group is growing rapidly but, apparently, isn't being measured properly where household formation is concerned, and thus the "appropriate level" of homebuilding.
"Many researchers" are using the 2011 census as their base, but that, the economists said, gives a false picture of household formation.
Having said that, it's going to slow.
"Still, our evidence that recent demographic demand for housing has been undercounted suggests that there has been no significant overbuilding," Mr. Tal and Mr. Exarhos said, projecting that housing starts will average 190,000 annually for the next couple of years, or some 10,000 more than CIBC's previous forecast.
https://www.tanteam.com/wp-content/uploads/2014/11/canadianhomeoverbuildingnovember2014-1.jpg
450
800
TanTeam Editorial
https://tanteam.com/wp-content/uploads/2020/10/newlogo.png
TanTeam Editorial
2014-11-19 19:31:58
2019-01-03 23:40:51
Misreading Canada's Housing Market: No 'Significant Overbuilding'